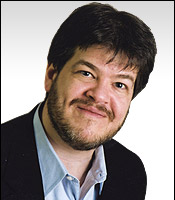 Jeff Jacoby weights in
on today's Boston Globe on the unconstitutional suppression of the marriage initiative.
He criticizes the reaction of one
Massachusetts
newspaper (not the Globe):
When the Massachusetts Legislature corruptly avoided voting on the petitioners' amendment, ducking the vote required by the state constitution, the [Berkshire Eagle] newspaper cheered its lawlessness. "Civil rights should never be determined by a majority of voters," it declared. "Ballot questions are blunt instruments, lacking the delicacy of legislation."
It is hard to say which is sadder: the contempt for ordinary Americans that such comments reflect, or the ignorance of American history underlying them.
I would add the Globe to the list of those behaving contemptibly, Jeff. Your colleagues in the Editorial cloister remain silent while their like minds on Beacon Hill mug the Massachusetts Constitution.